Know, but they are not confident, they know, but while living in the year 2022, there are a lot of people who do not know English, they know, but they are not confident, they know, but are hesitant, some are not good with English vocabulary, some are not good with English Grammar and some are not good with English conversations!
Why learning English is a problem even today?
There could be major problems while learning English like not having the right environment to learn, not having the right resources, problems choosing the right college, not knowing where to start, and several more!
Even while facing several problems, many English learners find some or the other way to deal with it, such as getting a personal tutor, meteor, joining in for some classes or courses, self-studying, etc. However hard you try to learn, learning can never be completed by having the practical knowledge and experience of what you have learned. And in the case of the English language, a learner cannot get into the depth of it until he/she has given the practice to reading, writing, listen-understand, and also speak.
Solution!
While there are many websites and sources that give you loads of learning materials and courses, there are very few websites and applications that give you a taste of the experience. One of them is the website and the application of "Talk Now".
The Uniqueness of the app!
Talk Now is an audio-chat application that allows you to speak to real app users and also English language learners just like you are! Just like you have a personal teacher while you learn something, Talk Now is your virtual teacher that focuses more on giving its users an experience of having English conversations and also chatting in the English language. Talk Now is your one-stop to learn as well as improve the English language, right from reading, listening, writing and most importantly – speaking. While many of us have the problem of speaking to strangers in the English language, Talk Now removes the barriers of talking face to face, in a physical mode, instead, the user can have a conversation with another real-time user just through a voice call through the app. 
Why choose the Talk Now App?
You might have a question that you can speak with anyone in the English language, so why this app!
Simply, because Talk Now is the new way to learn English!
The answer to your question of 'Why choose Talk Now' is that you are not alone who is learning English, and the specialty of Talk Now is that all the users are just like you, who want a chance to improve the English language and speak confidently! All the users in Talk Now are English-language learners. All the Talk Now users have joined to improve their English and to instill confidence so that they do not hesitate while they speak! Moreover, the app is user-friendly which also improves your vocabulary, gives you high-quality audio, and also unlimited voice calls! You can also choose to speak to a person from anywhere in the world, there is no restriction!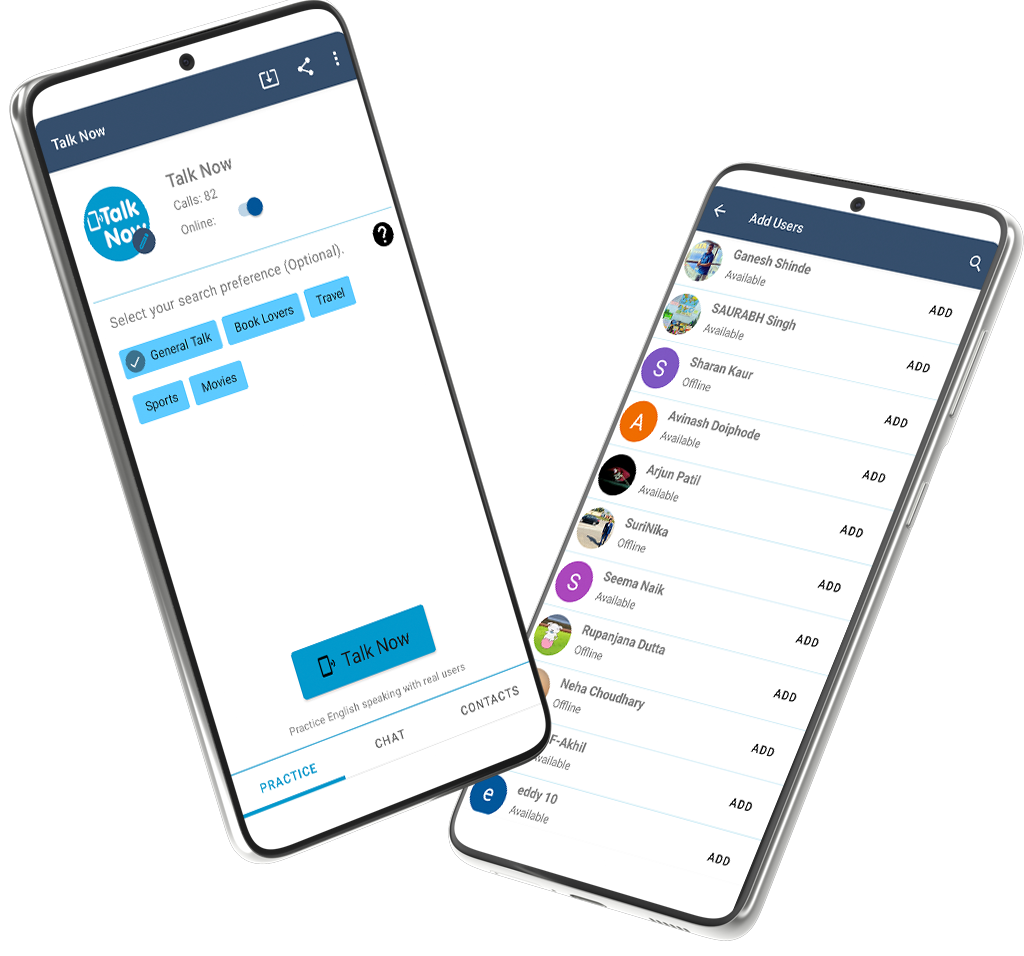 While using Talk Now, a user is out of their comfort zone as he/or she is having a conversation with another English-language learner who is a stranger. So, you are out of your comfort zone when you do not have to speak to someone you know!
A user can also indulge themselves in the 'Unscramble letter game' wherein you just have to form/create correct words with the given group of letters. This will help you to increase your brain activity to think! Also, you get to learn more words! Isn't it amazing! An app that gives you an actual experience to learn, chat, talk and play games just to improve your English language!
By downloading the app, you give yourself a chance to improve your English language so the next time you will not have to hesitate to speak English or write English! That's Talk Now for you!